SUPER NATALE 2015 "7+2" al KITESURFING VILLAGE – SPECIAL COURSES FOR BEGINNERS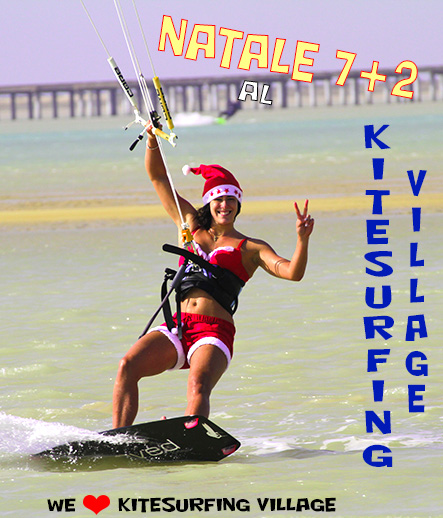 THIS OFFFERTA EXPIRES IN
---
Treat yourself to a Christmas holiday kite al Kitesurfing Villa di Ras Sudr, Paradise on the Red Sea Kitesurfing, and takes advantage of the fabulous offer CHRISTMAS 2015 7+2! And not only! If you book at least 14 nights and for more 4 in GIFT! Also special discounts on courses for beginners and also receive special HOLIDAY KV +2 card, that gives you two additional nights for stays organized at the Kitesurfing Village in 2016!
The offer includes:
1) Two nights free for at least 7 nights in a single room, double or triple or four nights free for at least 14 nights in a single room, double or triple.
2) If you are a beginner and want to treat yourself or give someone one of our courses, Christmas can do that getting the 15% discount!
3) Come to Kitesurfing Village at Christmas 2015 and receive the special card HOLIDAY KV +2 that allows you to add two nights stay at any holiday booked by 01 April 2016 to the 31 November 2016. The promotion is not combinable with any other promotions.
Details of the offer:
The offer is valid for arrivals from 01 December 2015 with maximum return on 31 December 2015.
The discount 15% on courses it applies only to courses for beginners KV and KV BEGINNER BEGINNER PRO.
Kitesurfing Village is able to completely organize your holiday easily and quickly. Airplane flight, transfer, stay and any courses or equipment rental.
direct scheduled flights from Rome and Milan and connecting flights from all other cities in Italy.
---
Hundreds of people have already made their dream a reality with us! Click here to read the experiences of others on TripAdvisor
For a custom quote or simply for information about the offer please contact us at the following addresses:
Whatsapp: +39 393 5588777
Phone: + 39 393 5588777
Email: fabio@kitesurfingvillage.com
Special Offer AUTUMN 7+2 and 14+4! 7 (14) the purchases and other nights you 2 (4) you give us the!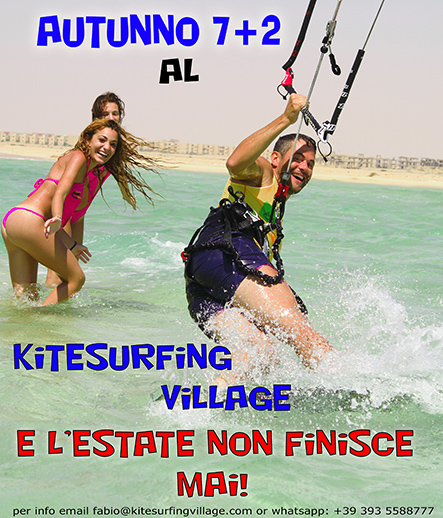 THIS OFFFERTA EXPIRES IN
---
Back by popular demand the offer 7+2 and 14+4! And this time for fall 2015. Offer valid for the months of October and November!.
For any stay of at least 7 nights in double or single, other 2 the nights you give us! And if you book a stay of 14 nights do you giving away other 4 for a total of 18 nights in Paradise Kitesurfing!
What is included in the offer:
– Hotel stay on the spot in half board in triple room, double or single
– Private transfer to and from the airport active 24 hours 24
– Use of the spa (subject to compliance with the rules of the center)
Does not include the offer:
– Entry visa + 25 dollars to be paid at the airport
– Airplane flight (for information contact us at our addresses)
– Possible courses or equipment rental
– Storage and rescue, and use of the services of the center kite
Here are some examples in a double room:
8̶ ̶ giorni / ̶ ̶7̶ Notti : 330 euro to person – that become 10 days / 9 nights !!
1̶0̶ giorni ̶ / ̶ ̶9̶ Notti : 400 euro to person – that become 12 days / 11 nights !!
1̶5 giorni ̶ / ̶ ̶1̶4 Notti : 575euro to person – that become 19 days / 18 nights !!
Courses for beginners:
KV BEGINNER PRO (exclusive of Kitesurfing Village): Intensive 17 hours beginners who want to become pro riders in the shortest time possible. For details of During contact us by email or phone or whatsapp.
Course fee 450 euro.
KV BEGINNER: course for beginners 9 hours of tutoring.
Course fee 300 euro.
Rental equipment:
At Kitesurfing Village you will find the best materials for hire: Core Kites, Core Fusion Boards, Nobile Boards, FLYSURFER and more.
Offer subject to limited availability.
To join or for information about the offer please contact us at the following addresses:
Whatsapp / Phone: + 39 393 5588777
Email: fabio@kitesurfingvillage.com